USE CASES
The Nimbus Token Platform can be used for almost any business project. Stores can use the platform to raise money by selling their own branded tokens instead of struggling with venture capitalists or suffering the humiliation of the typical banking experience.
We know what the benefits are to store owners, but what is in it for those customers that bought NIM during the crowdsale? NIM tokens unlock functionality on the platform. NIM are used to open stores and unlocks the ability to buy branded product tokens.
With product tokens, the customer can always exchange their token for a pro rata refund. The customer can opt to cash out the token or trade the token on the exchange. Instead of having yogurt tokens, they could swap those for a token that can be redeemed for a bicycle – a true digital bartering system on the blockchain.
Buying product tokens during the store's pre-sale period gives the customer a range of options that just aren't present in platforms like Kickstarter or retail outlets like Overstock. This is a real opportunity for entrepreneurs to help small businesses expand and grow while the entrepreneur has new tools and new ways to grow their token portfolio.
Below we explore three different use-cases from three different industries; agriculture, complex manufacturing, and personal services.
How To Blockchain An Avocado
An avocado farmer wants to expand the orchard and add more trees to some of their vacant land. The farmer can use the Nimbus Token Platform to pre-sale avocados to expand the orchard. At the end of every growing season, a portion of the sale of each avocado crop, from the new grove, will go towards the product token wallet. Customers can either trade their tokens in for some avocados, exchange one NIMx product token type for another, get a pro rata refund, or hold on to the token for future use. Lastly, if any NIM were leftover from the crowdsale, at each sale, the store mines new NIM tokens that goes to their wallet.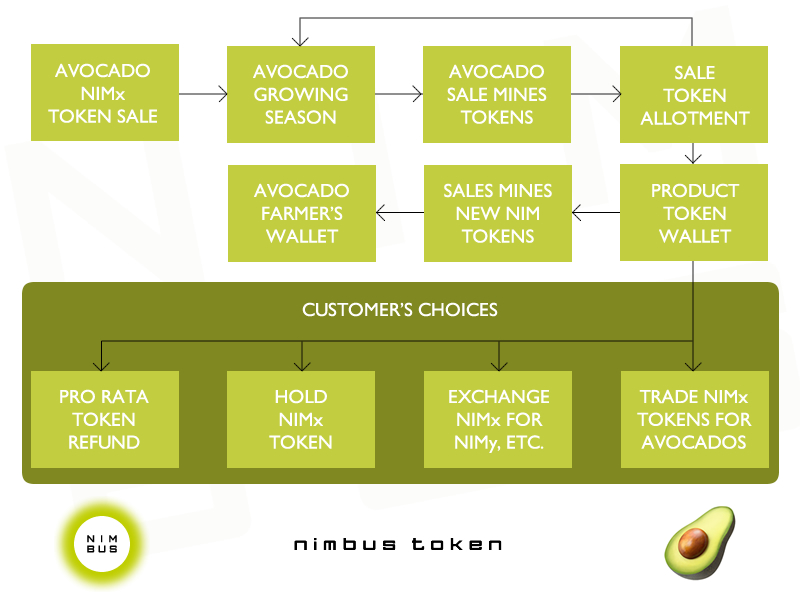 click to enlarge
This is just one example of what can be done with the Nimbus Token Platform and avocados. Actually any type of farm produce can be tokenized for the blockchain; eggs, cattle, wheat, milk, kale, and even grandma's prized heirloom tomatoes can benefit from the platform. The only limit is the imagination.

How To Blockchain An Aircraft Factory
A successful aircraft manufacturer has a hot new jet aircraft design and a contract for 10 planes. Sounds like a great place to be except they need to build the tooling to create the aircraft. So to get the money they need to get started, they use the Nimbus Token Platform to offer pre-sales of the airplanes. Once the tokens are sold, the aircraft manufacturer can now create the tooling needed to build the hot new jet airplane. For each aircraft sold, a percentage of the sale is directed to the product token wallet. Then the customer has the option to buy an aircraft with their tokens, hold onto the token, get a pro rata refund, or exchange their token for another product token on the platform. Lastly, if any NIM were leftover from the crowdsale, at each sale, the store mines new NIM tokens that goes to their wallet.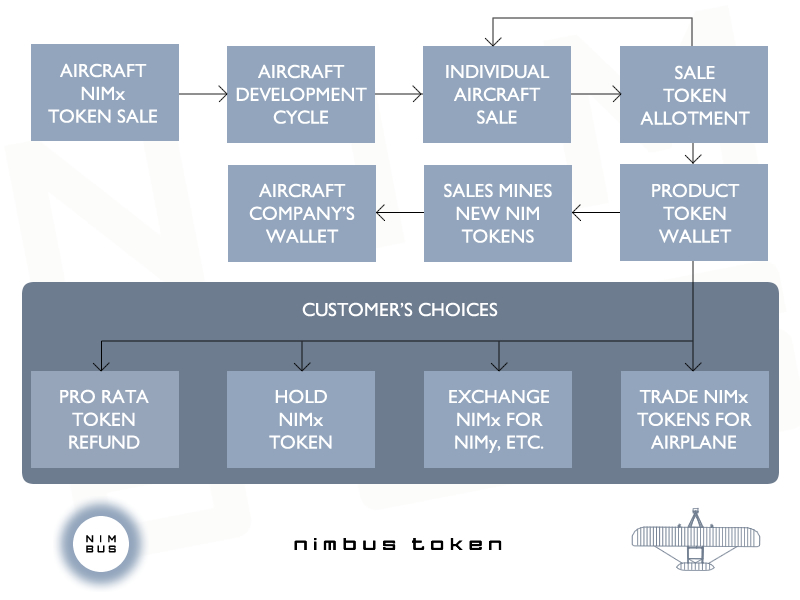 click to enlarge
This is an example of what can be done with the Nimbus Token Platform and aircraft. Any type of manufacturing is suitable for the platform. Aircraft manufacturers, software companies, telecom device makers, clothing companies and breweries are just a few examples of what product tokens can be utilized for. The only limit is the imagination.

How To Blockchain A Massage
A spa entrepreneur has a thriving spa and wants to open another spa at another location. The entrepreneur can use the Nimbus Token Platform to seek help in opening the new store. For every service the spa sells, whether it is a massage, a hair cut, a manicure, or a seaweed wrap, a percentage of each sale goes into the product token wallet for use by the customers. From there, the customers can use their tokens for anything on the spa's service menu, get a pro rata refund, hold onto their token, or exchange their token for another product token on the platform. Lastly, if any NIM were leftover from the crowdsale, at each sale, the store mines new NIM tokens that goes to their wallet.
click to enlarge
This is an example of what can be done with the Nimbus Token Platform and spas. Any type of service oriented company can make great use of the platform. Not only can spas get a lot out of blockchain technology, but so can landscapers, house inspectors, car mechanics, plumbers, accountants, and even restaurateurs can take advantage of this technology.
Founder Bio
Storm Bear Williams has spent his career working with amazing people and groundbreaking products. His multi-discipline career has led him to work with Silicon Valley start-ups and Fortune 500 behemoths.
Before the term crowdsourcing was a word, he founded the first crowdsourced charity, BooksForSoldiers.com.  Founded after 9-11, BFS is a soldier support charity which has been featured in everything from Oprah to People Magazine. The site went on to win the James R. Peterson Pageturner Award for Literacy. With over $32 million raised, Mr. Williams knows what it takes to get things done in the online world.
Now we wants to democratize finance. It is going to be an insane ride.
John McAfee (The Big Dog), Senior Strategist & Advisor
John started as a programmer for NASA's Institute for Space Studies before becoming the creator of the first anti-virus software company that continues to bear his name. Now he turns his genius towards the future of economics. He is a champion of blockchain technologies and a fierce advocate of cryptocurrencies. Luckily for us here at Nimbus Token, John brings his considerable skill to bear to advise and mentor Nimbus while guiding the company's movement into cryptocurrency exchanges.
Steven Peterson, Blockchain Badass
Steven brings an immense experience and resume in LAMP, SQL, C++, and web application development to the Nimbus Token Platform. That combined with his research in engineering blockchain technologies for the healthcare industry makes him the perfect match for Nimbus Token. His deep-dive knowledge in real world applications makes him the badass we need to merge old school transactions with the blockchain.
Keith Hall, Superstar Backend Developer
Somewhere in all of this, we need a brave soul to be master of the LEMP stack (LAMP is so last year). Someone who doesn't mind sweating the details of the data center and ABSOLUTELY LOVES making sure all the bits and bobs of TCP/IP are minding their manners. That is Keith. He honed his skills in the super-insane-ultra-demanding and ever-changing environment of D.C. Yes, that D.C. All of his patience & tenacity will help us build a better product. Go Panthers!
Kevin Williams, Genius Frontend Developer
Kevin is an amazing asset for our superstar team. With over TEN years of experience in front end development, his design styles and GUI expertise are top notch. His skills will come in handy when creating a site with logical and easy-to-use functional elements for both web and mobile. Bringing "ease of use" to the blockchain is somewhat of a Holy Grail in terms of design. His artistic skills and site function acuity will benefit the product and especially our users.
Daniel Spyralatos, Miracle-working Director of Social Media & Digital Marketing
Daniel has been working in digital marketing for most of his adult life, way before ICOs and cryptocurrencies were a trending industry. Some highlight projects were PR/Online Reputation Management work for sports brand Training Mask, digital marketing consultation for fitness Infomercial TV star Tony Little and other well respected celebrities in the US.
He has worked with several ICO projects, that turned out to be huge successes. Specifically he consults and runs the social media marketing for Cryptonomos's ICO clients. Some noteworthy ICOs include INS Ecosystem (sold out,) WAX (sold out,) Rentberry (still running – will reach hardcap soon,) and others.
With the several years of experience he has from his work prior to the blockchain revolution, and in combination with his passion for cryptocurrencies and innovative startups, Daniel is a great asset to our marketing team.
Dean Williams, A+ Director Of Business Development / HR
Dean should have been a coder but he insists he is a people person! We have him looking for clients and partners to interface our blockchain business with. Oh, and he also knows a good blockchain developer when he sees them. Dean is the one guy we have found that is immune to resume BS. He will dig, investigate and it is rumored he has conducted an interrogation or two. FOUR LIGHTS!
How The Proceeds Will Be Used
| | |
| --- | --- |
| Description | Unit Price |
| Labor | 40% |
| Marketing | 20% |
| Facilities | 10% |
| Security | 5% |
| Legal | 3% |
| Infrastructure | 7% |
| Reserve Fund* | 15% |
| Total | 100% |
*Reserve Fund
These tokens will be kept out of circulation and reserved for possible future use incase unforeseen circumstances should arise that the founders, staff, management, or team cannot envision or prepare for in advance.
How The Tokens Will Be Distributed
We want to keep the value of the NIM tokens healthy. It is in no one's best interest to artificially keep the tokens devalued. At the end of the token sale, all unsold tokens will be pooled for mining by stores on the platform as they log sales. No new tokens will be minted.
| | |
| --- | --- |
| Description | Percentage |
| Token Presale | 20% |
| Token Sale | 50% |
| Team* | 10% |
| Founders* | 10% |
| Costs and Fees Reserve** | 10% |
| | |
| Total | 100% |
* Vested Tokens
** Reserved for unplanned use
Note: Nimbus Token-based incentives would be offered to the Founders, Team and the Board with a vesting schedule. This would ensure that the management team, the board, and the employees are aligned towards the long term creation of value for the Nimbus Token.